Les is a native of Memphis, TN and graduated from The University of Memphis in the 1991. He earned a Master of Divinity from Reformed Theological Seminary in Jackson graduating in 1994. In the Fall of '94, Les moved back to Memphis to start the ministry of RUF (Reformed University Fellowship) at The University of Memphis. He soon met and married Ginger Hubbard, a Jackson, MS native and Graduate of Ole Miss with her Masters in Mathematics.
After five years in Memphis, Les was called to work with RUF at The University of Mississippi (Ole Miss) in the Fall of '99. In the summer of 2011, he accepted a position as Area Coordinator of RUF ministries in Arkansas, West Tennessee, and Mississippi (Midsouth) and Alabama. In the July of 2018, Les accepted a call to become the Lead Pastor at Christ Presbyterian Church in Oxford, MS. Les and Ginger are the proud parents of three children: Anna Grace, '99, Caroline, '01, and Luke, '04.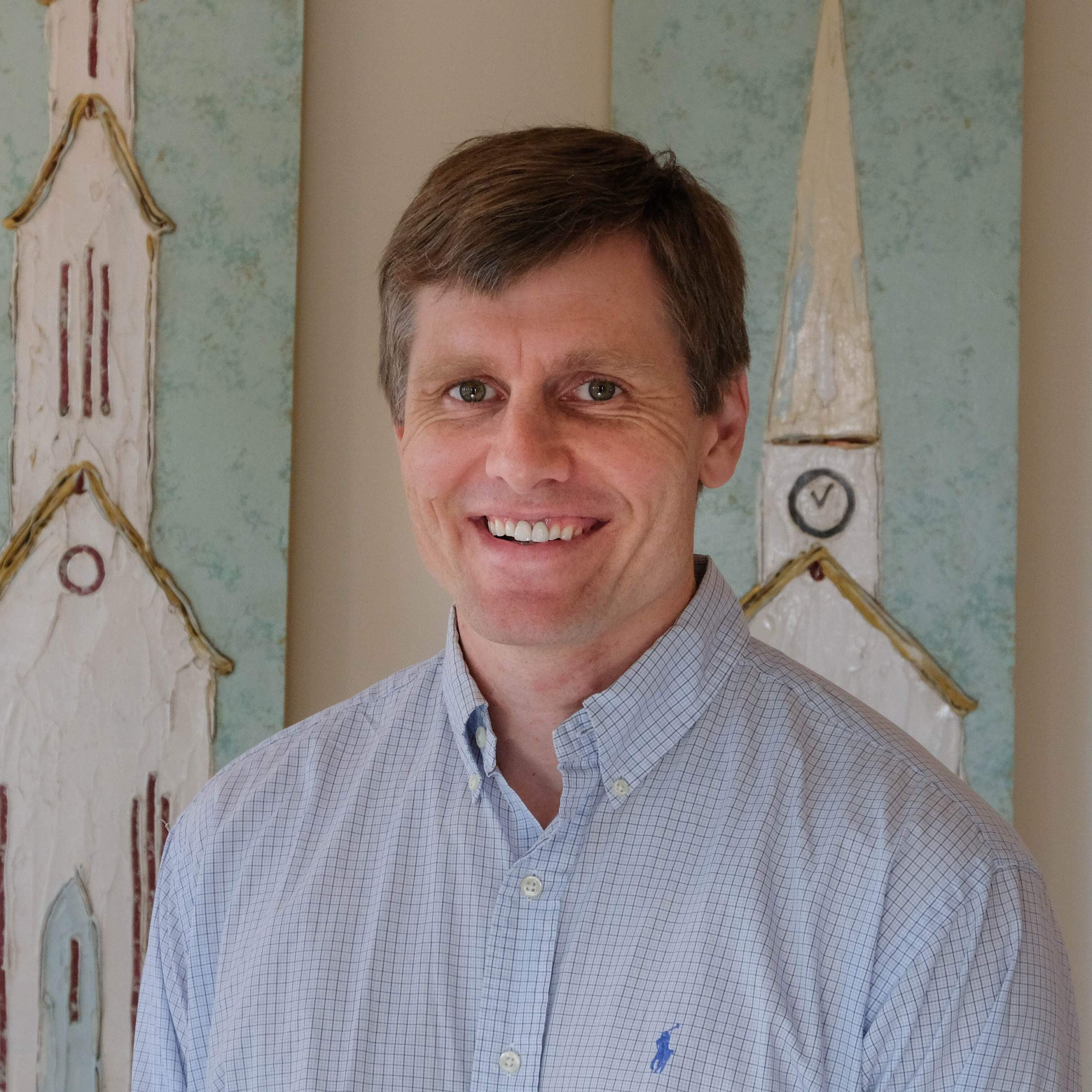 Brian was born and raised in Jackson, MS, and graduated from Ole Miss. After graduation, Brian worked for two years with RUF as an intern at Auburn University. He then married Liza and moved to Jackson to attend Reformed Theological Seminary. While in seminary, he worked with college students at First Presbyterian Church and Millsaps College.
Upon completing seminary, Brian was ordained and moved to Starkville, MS to work with RUF at Mississippi State University. After 13 years of serving as the RUF campus minister at MSU (8 yrs) and Ole Miss (5 yrs), Brian accepted a call in the summer of '22 to become an associate pastor at Christ Presbyterian Church in Oxford, MS.  Brian and Liza have three children Shelby ('08), Annie ('10) and Clark ('13).
Scott was born and raised in Brookhaven, MS. After high school, his family moved to the Jackson area where they attended Pear Orchard Presbyterian. He went to Mississippi State for two years and decided to take a year off to figure out what he wanted to do. It was during this time that he felt God's call to youth ministry. He transferred to Moody Bible Institute in the fall of 2008 and graduated with a Bachelor's degree in Youth Ministry and Bible in 2011. Five years later he received his Master of Divinity from Reformed Theological Seminary in Jackson.
Scott has worked in youth ministry either as a volunteer, part time employee, or full time employee since 2007 and has loved it! He enjoys playing golf, fishing, watching sports, and pretty much anything outdoors. He and his wife, Grace Anne moved to Oxford in 2015 and have three children, Sophie, Will, and Brooks.
Assistant Pastor, Adult Education
Melvin currently serves as Coordinator for Worship, Adult Education and International Ministries at Christ Presbyterian Church and has been on staff since 2010. Originally from Malaysia, Melvin came to the US in 1995. After graduating from Ole Miss in 2000, he worked in the telecommunications industry for four years before attending Reformed Theological Seminary in Jackson.
After obtaining his Master of Divinity in 2010, Melvin came on staff at CPC as International Ministry Coordinator, eventually moving into other areas of church ministry. He was ordained into the ministry in August 2018. Melvin has been married to his wife Lindsey since 2011.
Children's Ministry Coordinator
Elizabeth grew up in Hattiesburg, MS and attended Ole Miss from 2001-2005, where she earned a degree in elementary education. After graduating, she taught first grade at Como Elementary School before moving to Nashville to teach kindergarten at The Covenant School.
In 2012, Elizabeth and John were married and moved to Memphis where she taught prekindergarten at Presbyterian Day School. In 2016, they moved to Oxford with their son, Jack, and had their daughter, Betsy, the following year. Elizabeth began serving as the Children's Ministry Coordinator during the summer of 2020.
Randall grew up in Houston, Texas and graduated from Texas Christian University in 2009 with a degree in Music Education. In addition to his involvement in the TCU wind symphony, jazz band, and marching band, Randall helped lead worship for RUF. Following a summer studying at the Middlebury College Japanese Language School in Vermont, Randall moved to Nagasaki, Japan where he taught English in Japanese elementary and junior high schools. During this time, he also got married to his college sweetheart, Alyssa, a native of Oahu, Hawaii.
Randall and Alyssa moved back to Houston in 2014 where he began teaching composition, literature, and humanities at Providence Classical School. At PCS, Randall continued to pursue his love of music ministry by helping form a student worship team to lead chapel services. He also assisted with the audio/video team and led worship part time at Christ the King Presbyterian Church. Randall and Alyssa then moved to Oxford, MS in 2020 where he now serves as the Worship Arts Director at Christ Presbyterian Church.
Randall and Alyssa have two girls and a boy, Megumi (2015), Yuna (2019), and Kazuma (2021). They enjoy eating and cooking Japanese food, reading manga, and watching Japanese films. They also love to watch TCU sports and cheer on the Horned Frogs.
Women's Ministry Coordinator
Anna was born and raised in Jackson, MS. She attended the University of Mississippi and graduated in 2001 with a degree in Elementary Education. She met her husband Clay through RUF at Ole Miss and they were married in 2000.
Anna worked in the Oxford School District as a substitute teacher and EL Tutor from 2010 until joining the staff of CPC in January of 2019.  Clay and Anna have three (awesome!) kids, Clayton, Walker and Alice.
Trip grew up in Clarksdale, Mississippi. He met his wife Kim during their senior year at Ole Miss, and they were married after graduation. At Ole Miss Trip earned a degree in engineering and was commissioned an officer in the United States Navy. He served on active duty for seven years in the Navy's Nuclear Power Program. Following his military service Trip spent his career at Entergy's Grand Gulf Nuclear Station near Vicksburg, Mississippi. After retiring from Entergy Trip made the move to Oxford to work at the Batesville Generating Station before fully retiring in 2018.
Trip serves as a deacon and coordinates Christ Pres's Benevolence Ministry. He and Kim have two married children, Katie Myers and her husband Robby, and Hardy and his wife Ainsley. They have been blessed with five precious grandchildren and spend as much time as possible enjoying them.
International Ministries Assistant
Christine Hom has worked part-time as the International Ministries Coordinator at Christ Presbyterian Church since the fall of 2015. She and her family moved to Oxford, Mississippi in the fall of 2014 for Erik to begin as an Assistant Professor in the Biology department at Ole Miss.
In the past, Christine has worked in different administrative roles at the City Church of San Francisco and Christ the King Presbyterian Church in Cambridge, MA. She also served as a RUFI intern at the University of Texas for two years. She graduated from The Juilliard School with a B.M. in Double Bass Performance (1997) and was raised in the San Francisco Bay Area. In her free time she enjoys reading, the arts, and drinking coffee or tea with friends.
Susanna was born in Yazoo City, MS. From there, her family moved to Fort Payne, AL and then ended up in Starkville, MS. She got a degree in the School of Applied Sciences from Ole Miss in 2005. For the next few years, she lived in the Nashville area where she was an intern for Reformed University Fellowship at Middle Tennessee State University. In 2009, she moved back to Oxford, got married to Mark Levy, and worked in various jobs, both in the hospitality industry and in administrative positions. She and Mark have three children, Louise (2013), James (2014), and Sallie (2018), who are tons of fun and totally exhausting. Susanna's two favorite things are Sunday afternoon naps and a hot cup of coffee paired with a slice of pie.
Nursery & Events Coordinator
Margaret grew up in Memphis, TN. She graduated from Ole Miss in 2002 and moved to Nashville. She met Rob while in college, she moved to Nashville after graduating from college and moved back to Oxford after marrying Rob in 2003. After moving back to Oxford she worked as a legal assistant and then a property manager until deciding to stay home with her two year old son Robert in 2011. Later that year her daughter Miller joined the family.
Margaret's husband Rob has regularly attended church at Christ Presbyterian Church almost since its formation. They began attending after she moved back from Nashville and have been members since 2005. Margaret began working as the Nursery Coordinator in early 2009.
Communications Coordinator
Whitney grew up in Madison, Mississippi and went to Ole Miss for both her undergraduate and graduate degrees. She met her husband, Matt, during graduate school, graduating in 2006 with their Master in Business Administration. They were married later that year and left Oxford to move to Memphis for the next seven years.
During her time in Memphis she worked as a Marketing Intern for a website design company and eventually ended up as the Director of Marketing & Research for a commercial real estate firm. They also welcomed their first child.
In 2013 they relocated back to Oxford, MS, just before the birth of their second child. Whitney was offered the Children's Ministry Coordinator position in 2016 and later that year accepted an additional role with Christ Pres in communications. In 2020 she handed over the Children's Ministry portion of her job to Elizabeth Adrian, and now serves as the Communications Coordinator for CPC.